Lost Foam Molds
What Is Lost Foam Molds
---
Lost foam casting (also known as solid mold casting) is a solid mold casting in which foam plastic molds use dry sand without binders combined with vacuum technology. After drying, it is buried in dry quartz sand to vibrate and shape, poured under negative pressure to make the model gasify, and the liquid metal occupies the position of the model. The key to the success of lost foam mold casting is to understand the importance of the close cooperation between the casting manufacturer, the user and the mold designer. The Lost Foam mold designer must first meet the requirements of the user and the needs of the casting factory, and then meet the requirements of mold manufacturing and model forming.
The lost foam molds is of significant importance in lost foam casting operations, whether for prototype or mass production. Pintejin is a lost foam casting parts and tooling manufacturer that is specialized in the manufacturing of lost foam molds and molding line systems(include green sand molding line ) used for different applications. Dry sand, foundry paint and model material are popular lost foam molds material options. Our custom lost foam molds services can deliver molding line systems with high functionality and ease of exchange, most importantly, can perfectly match your requirements. From 5 axis machining mold to vacuum molding line to mechanical jig, trust professional experts and engineers at Pintejin to help you in mold design and cnc machining, as well as other tooling manufacturing. We'll minimize the downtime costs and improve the efficiency to provide a cost-effective solution with a short lead time. Fast to upload your CAD files or send us your inquiry to get a quick response online.
Lost Foam Casting
Lost Foam Molds Making in China
For Lost Foam Mold Making Require,Choose Pintejin Foundry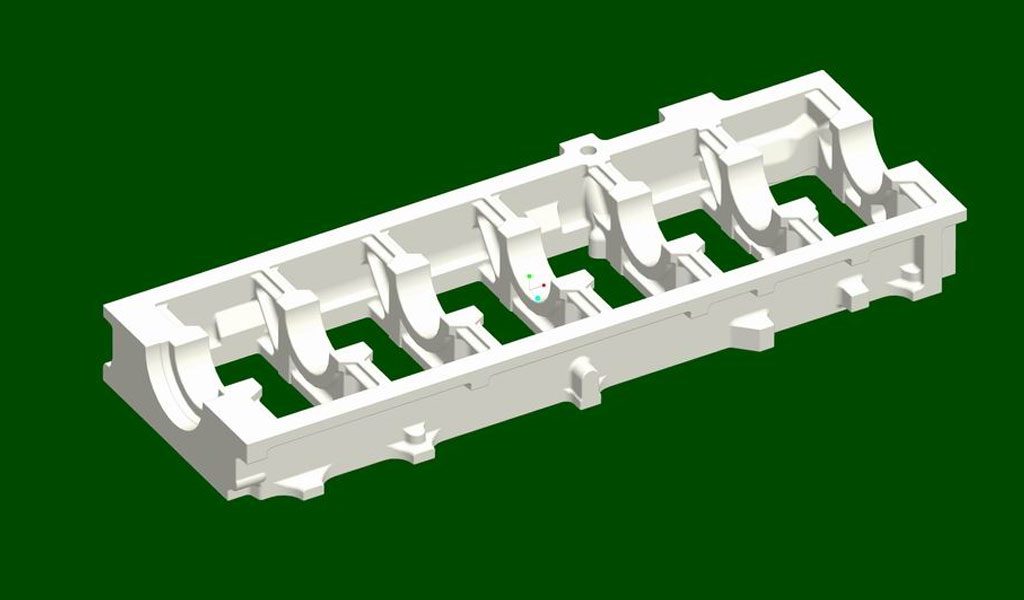 The Comprehensive Design Points Of Lost Foam Molds
---
EPC mold technology has many features that other casting methods cannot provide to produce castings – negative draft angle, insert casting, special structures (such as curved channels) and complex blind holes, etc. are all possible to cast. Description of key features of optimally designed EPC parts Detailed casting process analysis needs to identify some machining and casting related factors as well as casting, parting surfaces, gating systems and dimensional tolerances etc. A preliminary analysis of the mold cavity is guided by discussion . Part machining drawings are carefully reviewed in conjunction with casting drawings, which will help to integrate many factors into the design.
Casting Holes: In other types of casting methods, casting holes can be obtained by sand core or by machining (such as drilling). Whether or not casting holes has its corresponding characteristics for each casting, but generally, the casting hole reduces the cost of subsequent machining. Through special mold design such as the use of pins, mandrels or other mechanisms, the casting holes can be made directly on the mold.
Reduce Machining Allowance: Specification of correct EPC mold design can reduce casting weight by reducing draft angle and machining allowance. This flexible design is not possible in many other casting methods. It is EPC One of the greatest advantages of craftsmanship.
Eliminate Complex And Expensive Sand Cores: The sand cores that are indispensable in ordinary sand casting are eliminated in the EPC process. The fixed and movable live blocks in the EPC mold form a shape similar to the sand core in the foam model, both (sand core) shape in castings.
Comprehensive Casting Design: Determine the parting surface according to the shape of the casting. Generally, the parting surface of lost foam casting is similar to other casting processes, but it is slightly different in some details: the production designer must work with the mold designer. By determining the parting surfaces, the location of the glued surfaces, and the desired characteristics, the number of model segments can be reduced.